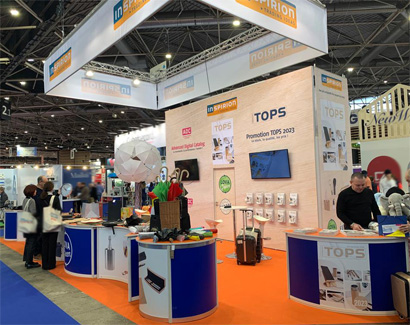 CTCO LYON 2023
AN EXTREMELY DYNAMIC 15th EDITION!
The CTCO trade show is the major annual meeting place for professionals in the advertising object and textile sector in France. Reserved exclusively for specialist distributors, it took place this year from 31 January to 2 February.
After two years of serious disruption due to Covid, this edition was eagerly awaited. It was a great success.
More than 10,600 visitors were registered over the 3 days, which is an excellent attendance. 314 exhibitors took part in the show.
Inspirion's 64 m² stand, ideally placed near the entrance of the show, was particularly appreciated. For the first time, two TV screens were set up on one side of the stand to show videos of our new products and our new logistics platform in Sottrum, and on the other side to present our digital catalogue ADC.
Present on the stand were Philippe Bocchi, Henri Fernandez and their colleague from Germany, Anne Sieg-Boufenara.
The atmosphere and the exchanges with customers and prospects were very positive. And the many positive messages communicated by Inspirion were very much appreciated by the resellers.